Dyno Event - 4/29/2006



Lined up outside the shop, ready and waiting.
The Saturn Performance Club held a dyno day at TMW Dyno Services in Rockdale IL on Saturday, April 29, 2006. TMW has been host to a large number of dyno sessions for our Club over the years, and it's a favorite hangout for many of us.

For those who aren't familiar, the dyno gives measurement of a car's horsepower and torque at the wheels. As parts are added or changed on a vehicle, the dyno is the most accurate way to measure the effect. It's great to have unbiased results, and it sure beats guesses or speculation any day.

| | |
| --- | --- |
| | George M brought his 2004 Ion Red Line and was eager to see how it measured up. |

Chris H had just installed a Stage 2 package on his 2004 Ion Red Line. With this set of upgrades, the car put down 257 horsepower and 220 ft lbs. of torque. Nice. Especially when you consider that the kit is available at your Saturn dealer and comes with a full factory warranty.

Click HERE for video of one of Chris' runs (1.1 mb). The sound of the Ion's supercharger never gets old.

Video requires DIVX 5 codec to play - info/download HERE. Be sure to turn up your sound.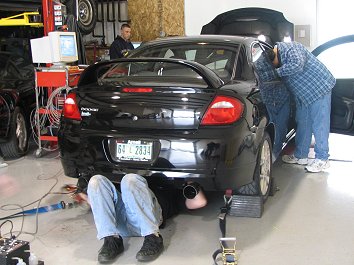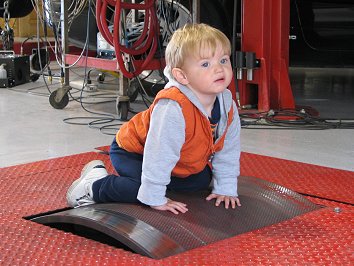 Strapping down Pauly G's Neon SRT, and a future car club member in training.






Larry D got in touch with us by visiting one of our club's Chat sessions. While a lot of people may be content to BS online about their hobbies, our club members make it a point to get together for events like this one.

Larry had just finished a full motor build in his 96 SC2 with a variety of SDA parts. Rather than speculate, estimate, guess, or take somebody's word for it when it comes to how performance parts actually perform, he wanted to strap the car down and get some real measurements.


Phil B brought his Neon SRT which is one serious machine. Pop the hood and you'll see something you don't expect - a turbocharged Mitsubishi motor.

I can't remember the last time that a car on the dyno caused my ears to bleed. That side-exit exhaust let you know something was going on under the hood, especially when it was shooting fire.

Click HERE for video of one of one of Phil's runs (1.4 mb). The cheers and laughter at the end of the run were because of an unexpected "power adder" we used... (details on next page).

Video requires DIVX 5 codec to play - info/download HERE. Be sure to turn up your sound.