Rochester is start for a 'Cannonball Run'
by Jeffrey Blackwell
Rochester Democrat and Chronicle, April 25, 2002
The Cannonball One Lap of America is not about fame or money. The race of endurance is about an almost fanatical passion for cars and driving.
A caravan of 100 vehicles will depart High Falls Friday, May 3, on a racing oddity that will cover 5,000 miles in nine days before returning to Rochester on May 11.
Drivers come from the Rochester area and around the globe, and from diverse backgrounds. Some, such as Parnelli Jones, are veteran race drivers. But most are amateurs with a few races under their belts or beginners with no more experience than a few laps around a track.
The stable of vehicles they will drive includes everything from a $300,000 Lamborghini Diablo to econo-boxes like the Ford Festiva and Honda Civic.
"It's kind of become habit-forming for a lot of our competitors," said Brock Yates, Cannonball creator, well-known automotive writer and Wyoming County resident.
Today's Cannonball is not the outlaw, high-speed road rally of U.S. highways portrayed in the movie Cannonball Run, written by Yates and starring Burt Reynolds. That movie was based on the series of fabled and illegal races from New York to California that were organized by Yates in the 1970s.
"That was illegal and in line with my anarchy days," he said. "The world has changed so radically -- there are probably another 80 million people in the country now and the highways are much more crowded. (That race) is as antiquated and outdated as Jesse James robbing a bank."
The police-friendly Cannonball is a test of endurance and track skills. It combines driving between a series of 14 racetracks across the country where drivers (each team has a minimum of two) compete in time trials on ovals, road courses and drag strips. Points are awarded for speed at the tracks -- not on the public highways. The prize at the end is a trophy -- not a million-dollar check.
"There is no competitive component in the transit stage," Yates said. "You win or lose on the track, not on the highway."
Yates created the One Lap of America in 1984. But Rochester is hosting the race for the first time because of a major sponsorship by High Falls Brewing Co. The company is sponsoring a full week of events at High Falls, including car shows and live music.
Dr. Stuart Sacks, an anesthesiologist for ViaHealth, is competing in his fifth Cannonball. His first was with two guys he barely knew, driving a rented Dodge Neon that had no radio and no air conditioning. This year he is driving his own car, a BMW M3 with many custom and performance parts.
Cars and driving are Sacks' passion. He's a frequent participant in BMW club events at Watkins Glen. He can keep up a conversation with most racers and mechanics. His home in Pittsford even has a lift for working on his cars.
To Sacks, the race is about more than driving. He also uses the Cannonball to raise money for the Finger Lakes Donor Recovery Network. He has raised about $20,000 for the organization through sponsorships in his past races. Sacks and other local teams are also raising money for the Ronald McDonald House in Rochester.
"I do it for the fun, but also to raise money," Sacks said.
Dan Swain of Scottsville is entering his 2000 Corvette into the race for the second time. His son Brennan, winner of last year's CBS reality show The Amazing Race, will join him for part of the Cannonball.
"It's a real adventure because of all the places you see," said Swain, who will be competing with the fastest class of cars in the race including Porsches, the Lamborghini and Dodge Viper. "We will wear them down."
Jamin Cummings, 23, of Greece will be in his second race, joining a team from Boston. Driving has been his passion ever since he was a kid watching his father work on trucks.
"This is like my one big thing a year," Cummings said. "This is my Christmas, New Year's and my birthday all in one."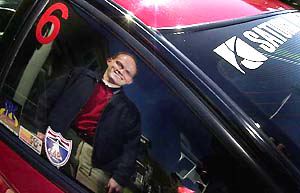 Jamin Cummings of Greece will compete in his second Cannonball One Lap of America. He hopes to have this car ready for next year's event. Photo by Max Schulte.