Most people in their lifelong quest for "more power!!!" often fail to consider an important point. What good is more power if it can't be properly utilized? If you've ever had wheel spin (and I know you have), then you know exactly what I'm talking about. Even in stock form, not all of the car's power is being transferred to the ground. Add a turbo, nitrous, or supercharger to that, and the problem worsens.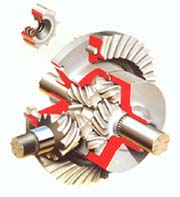 While it's tough to make large horsepower gains on a Saturn without going through a lot of custom work and a lot of time and money, it's considerably easier to select modifications that will help you utilize the power that the car already has. A limited-slip differential is a great example, as well as sticky tires, struts, springs, sway bars, etc. (...not to mention drivers' schools, lapping days, autocross, test & tune, and so on. Don't forget to improve the driver as well!)
No matter what types of activities you enjoy with your car, a limited-slip differential will help improve its performance. Better launches at the dragstrip, no loss of grip from the front inside wheel on tight corners on the autocross course, being able to get on the throttle hard to pull the car out of a turn (instead of experiencing understeer) on the road course, and even more enjoyable winter driving in the snow.

Cool! So where can I get one?
You're in luck! You can now get one of these differentials from SPS. They're available with or without the ring gear installed. You may also find them available from other sources too, but there are a few details you need to know before you go any further. The following is some info that I picked up when I bought mine, and is accurate to the best of my knowledge.
R.T. Quaife Engineering LTD is the only company that currently makes an differential for Saturn cars (although Phantom Grip reportedly makes a "kit" which installs inside the stock differential). Autotech Sport Tuning (located in CA) is the only authorized Quaife distributor in the US. More information on the entire Quaife line can be found at http://www.quaifeamerica.com/, as well as a great description of how a performance differential works.
You may have seen ads in many automotive magazines for Bill's Isuzu Performance, who is also selling Quaife diffs. Unfortunately, it appears as though Bill is not an authorized dealer (meaning that if you buy one, you've probably got no warranty!). Bill also recently ran his own site selling Quaife products at http://www.quaifeusa.com/. I'd heard at one time that Quaife had initiated a lawsuit against Bill, most likely in regard to his dealer status in combination with a website that many would consider misleading. It now appears that the http://www.quaifeusa.com/ has been turned over to Quaife (as of late-2000).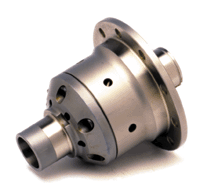 The stock Saturn differential has the ring gear riveted to it. The Quaife diff comes from Quaife without a ring gear. I would suppose that you could drill out the rivets from the stock ring gear and try bolting it up to the Quaife, you can order the ring gear 'pre-installed' on your new differential from unauthorized Isuzu Bill, or you can get one from your local Saturn retailer's parts department (although they don't sell it separately - you'll have to buy a bunch of other trans parts with it that you don't need). Ok, here's where it gets interesting.
The ring gear is riveted to the stock differential at the factory. It is then machined to very exact tolerances after the two are attatched (which I'm told is a process that is not very common). If you do purchase a Quaife diff and a separate ring gear, this precision machining step should be performed after assembly. A used ring gear off your old stock differential may not even be useable, since it has already been machined along with your stock diff as a unit.
At this point, the largest problem will be finding a machine shop knowledgeable in this process of fitting the two together and then machining the diff & ring gear as one unit. After the job is complete, you'll then have to hope and pray that your trans doesn't explode, or that ring gear runout doesn't cause abnormal wear or excessive noise.
When I first started investigating this diff, it was my understanding that Bill's Isuzu Performance felt that the ring gear bolted right up with no machining necessary. After learing about the machining process that takes place with the stock unit at the Saturn plant, this made me very apprehensive. I have heard a rumor that a Saturn owner had purchased a Quaife diff from Bill and was 'experiencing noise' from it. I do not know any of the facts involved, but it appears that concern over this machining step is warranted.
If you are seriously interested in one of these, do yourself a favor and buy one with the ring gear installed from the experts at SPS. It may cost you a bit more, but you're guaranteed not to have problems down the road. I bought one of the first ones that they put together, and the proper ring gear installation and machining was performed. I've never had any problems or issues with it, and have put a lot of miles on it over the years in my daily driver.

Ok, now on to the photos...