Gingerman 3/31/2001

On March 31 - April 1, 2001, Saturn Performance Club members once again gathered for open lapping at Gingerman Raceway in Southhaven Michigan (see my archives for other visits to this track). Gingerman is an 11-turn 1.88 mile road course. With lots of grass and no concrete barriers next to the track, it is safe and enjoyable for the first-time driver. You can read more about Gingerman Raceway HERE.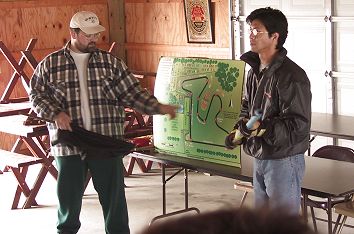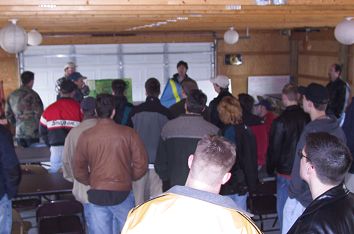 Deebs (SPC) & Tommy (SpeedTrial) explaining the flags, track layout, & rules during the drivers' meeting.

| | |
| --- | --- |
| A map of Gingerman Raceway, click HERE for a larger view. | Our day on the course was sponsored by SpeedTrial USA and was again considered a 'Driver's School' - a learning event where we were able to push the limits of our cars and improve our driving ability. Lap times during the event are not recorded, and the cars are not actually competing against each other. |
| | |
| --- | --- |
| The SPC was helping out with trackside services for the day which included vehicle tech inspections (for proper maintenance & safety) as well as providing a bit of instruction to beginners, as many of us have driven hundreds of laps on this course in the past. | Working on the cars under the canopies. |
| | |
| --- | --- |
| An all-wheel drive Audi TT. | The temperature in Southwestern Michigan was around 50 degrees, and it made for a beautiful weekend. This was a two-day track event, and we were looking forward to a lot of driving ahead of us. |
Saturn owners & club members attending the event included Deebs, Tapp, Lane, Bill H, Alex P, Brian J, Dave V, Jeff C, Dave S, and Dave M. Even a few techs from the local Saturn stopped by and rode along for a few laps.

At the right, we see Bill H in all his gear in front of today's NMC Racing entry - a rented Ford Focus. Hey, we take this stuff seriously.



"Dammit, take the picture so I can drive!"





Dave V had just installed a set of harnesses, bought a driving suit & helmet, and mounted some Yokohama race rubber. You think he may have been looking forward to this event?

Click the link below for some video of Dave's SL2 entering turn 1.

.AVI (requires Indeo codec) - 516k

Indeo 5 codec can be downloaded HERE.

Be sure to turn up your sound.

Some of the other cars that joined us included several Audi TT Quattros (turbo), Ford F150 Lightning (supercharged), Pontiac Grand Prix GTP (supercharged), Isuzu Impreza 2.5 RS, three Ford Contour SVTs (one supercharged), Lotus (turbo), Chevy Camaro, two Chevy Corvettes (one Lingenfelter), Honda Civic CRX, BMW M3, several Acura Integra Type-Rs, two Honda S2000s, Toyota MR2, Mazda RX7, three Mazda Miatas, Honda Prelude, two Volkswagen Golf GTI VR6s, several Ford Mustangs, and a Subaru Impreza WRX (turbo).