The SPC Project Car 3/24/2001


With some last-minute planning, several club members got together on 3/24/2001 at the Deebs garage. Bill H & I drove down from Wisconsin, and Dave V made his way from Michigan, as we met up with Deebs, Tapp, and Roland who were already hard at work on the car.



Roland and Deebs prepping the interior.
| | |
| --- | --- |
| | Deebs and Tapp had been very busy with the main SPC project car recently. The sight of a Saturn totally stripped down is something to behold. The car wasn't brought to this point only with the purpose of making it lighter, however. This would be the day that the interior was to receive a shiny black paint job. |
| | |
| --- | --- |
| Bill H is currently in the middle of getting his SL2 ready for SCCA competition, so he and I had stopped by Northstar Motorsports earlier in the day to try out all their race seats. We did some serious sitting while we were there, which led to Bill walking out with a new Corbeau Forza seat at a really great price. At the right you can see that Bill couldn't wait to get it home to try it out. | Bill H making 'vroom vroom' noises. |




Once the sanding and prep on the project car were finished, we went over the interior of the car with cleaning solvent and tack rags and masked off the areas that wouldn't be painted.

A trip to Home Depot for $15 worth of plastic was all that it took to transform the garage into a pretty effective paint booth.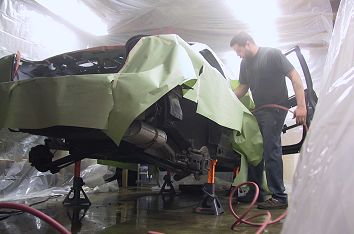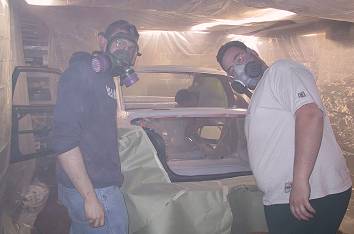 Dave V mixed the paint, fired up the compressor, and worked his magic with the spray gun.

After allowing enough time for several coats of paint to dry, we unmasked the car. A lot of ooh's and ahhh's could be heard at this point.