Putnam Park 3/2000


Watching the sun rise over the track.
| | |
| --- | --- |
| On March 25, 2000, a bunch of Saturn Performance Club members headed out to Putnam Park Road Course in Mount Meridian, Indiana (near Indianapolis) for a day of open lapping. This was the club's first visit to Putnam Park, which is a beautiful 10-turn 1.8 mile road course with quite a few high-speed turns & straights. You can visit the Putnam Park website HERE. | |
| | |
| --- | --- |
| Click HERE for a larger view. | Our day on the course was considered a 'Driver's School' - a learning event where we were able to push the limits of our cars and improve our driving ability. Lap times during the event are not recorded, and the cars are not actually competing against each other. Instructors were available during the day to ride along. |

SPC members present at this session included Lane (WI), Tapp (IL), Deebs (IL), & Gary Hackney (KY), and we were also joined by John C. (of SPS) driving the white Team scR SSC car (you can see my writeup on the car HERE, and read John's experience & thoughts on this road course HERE).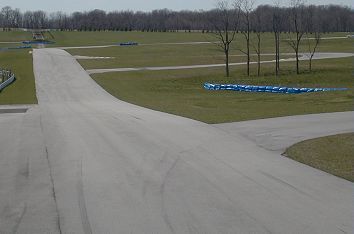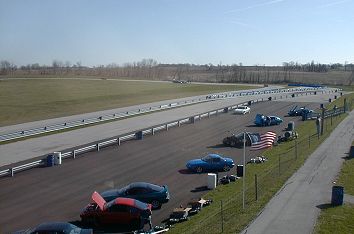 A view from the tower of the very fast and very long front straight.
| | |
| --- | --- |
| Lee & Tracy Grimes host this event every year at Putnam, and they had brought out their SCCA improved touring-prepped Civic CRX for the day. | Lee going over the rules at the drivers meeting. |
| | |
| --- | --- |
| You can read more about this car HERE. | The track management had 2 race cars at the track that they build & sell, and were giving rides to get the word out. 'Diasio' is the name, and they truly are one hell of a ride. Our Saturns were nearing 110 mph (near redline in 4th gear) on the track's longest straight. A ride in this car made me feel like my car was looking for a parking space in comparison. The Diasio is ~1300 lbs, has a 1000cc engine & sequential gearbox, and sells for around $35,000. A 1-liter engine with only 150 hp - and this car easily beats both a Dodge Viper & Porsche 911 Turbo around the track. |